Original article by JESSICA CORBETT republished from Common Dreams under Creative Commons (CC BY-NC-ND 3.0).

"We came here to let our voices be heard," said one demonstrator in Washington, D.C. "Every human is entitled to basic human rights, not killing kids, not torturing people."
This is a developing story… Please check back for possible updates…
Huge crowds of protesters filled the streets of Washington, D.C. and other U.S. cities on Saturday to demand a cease-fire in Israel's war on Hamas, which has killed and wounded thousands of Palestinian civilians in the Gaza Strip over the past month.
"We came here to let our voices be heard and our hearts and hoping we'll change the way people see this conflict," 70-year-old Manar Ghanayem toldThe Washington Post in the nation's capitol, where demonstrators gathered in and around Freedom Plaza.
"Every human is entitled to basic human rights, not killing kids, not torturing people," added Ghanayem, who traveled from North Carolina to march in D.C. with more than a dozen friends and family members, including young grandchildren.
Ghanayem also said that she voted for U.S. President Joe Biden in 2020 but was outraged by his response to the war. As she put it, "I can't believe Biden is turning a blind eye to this and gave Israel the green light."
Rather than advocating for a cease-fire, the Biden administration has pushed for "humanitarian pauses" in what critics are calling Israel's "genocidal" air and ground assault of Gaza—launched after a Hamas-led surprise attack on Israel on October 7.
After speaking with Israeli Prime Minister Benjamin Netanyahu at the beginning of the war, Biden said that "my administration's support for Israel's security is rock solid and unwavering." He quickly asked Congress for $14.3 billion for the Israeli war effort, on top of the typical $3.8 billion in annual U.S. military aid.
"Americans do not support the genocide in Palestine, we do not support the occupation, yet we are being robbed of our own resources in order to fund this oppression," said CodePink organizer Nour Jaghama earlier this week. Her anti-war group is a part of a broad coalition that supported Saturday's demonstrations in the United States.
"We need to show our government that we are outraged at them for forcing us to participate in such a disgusting and devastating attack on humanity," Jaghama continued. "As Americans, we have a responsibility to our brothers and sisters in Palestine to fight for them however we can."
Jaghama also delivered a speech on Saturday. According to CodePink:
"One of the most prominent questions we need to ask ourselves is: Why we can hear these words and firsthand accounts from Gaza yet the genocide still continues? Why do only 18 representatives and ONLY ONE senator support a cease-fire? And why does President Biden insist on funding Netanyahu's genocide?" she asked the crowd…

She then aimed her questions directly at President Biden: "Is this how you want to be remembered? A genocidal, destructive, warmonger? Shame! Look at this crowd, clearly the American people do not agree with your genocidal plans. You must call for a cease-fire now or solidify your position as one of the most inhumane presidents in American history. The American people demand a cease-fire, an end to the occupation, and the full liberation of Palestine."
Demonstrators in D.C. carried signs with messages like "Stop U.S.-funded genocide," "Cease-Fire Now," and "Let Gaza Live!"
Sharing a photo from the D.C. gathering on social media, Rep. Ayanna Pressley (D-Mass.) said: "Solidarity with the hundreds of thousands of people nationwide who marched in support of a #CeasefireNOW. Our pro-peace, pro-humanity movement is strong and it is growing daily."
The Saturday actions followed weeks of protests at places including congressional offices and major transit stations. Jewish Voice for Peace noted Monday that "Jewish people all throughout the United States are protesting in unprecedented numbers against Israel's destruction of Gaza and the United States' unwavering support."
Protesters, supporters, and journalists shared updates on social media.
New York, New York:
Minneapolis, Minnesota:
Olympia, Washington:
San Francisco, California: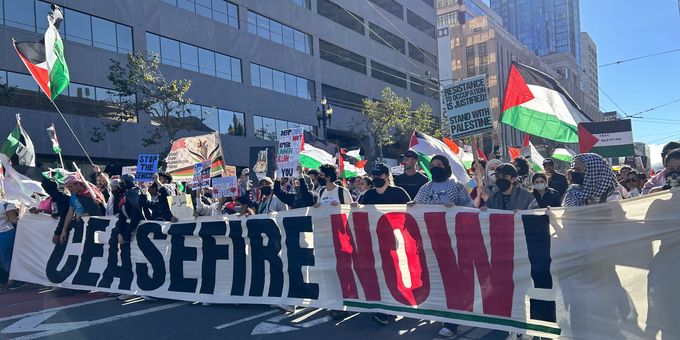 (Photo: Brett Wilkins)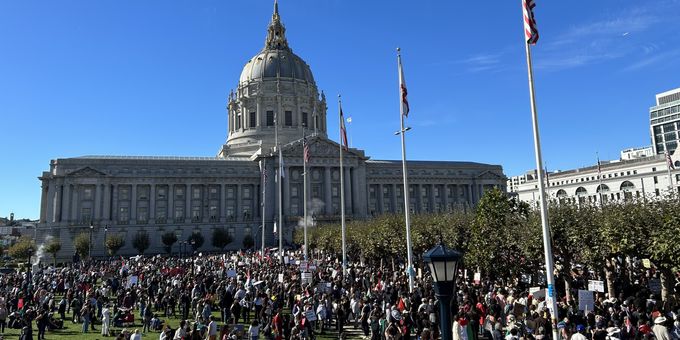 (Photo: Brett Wilkins)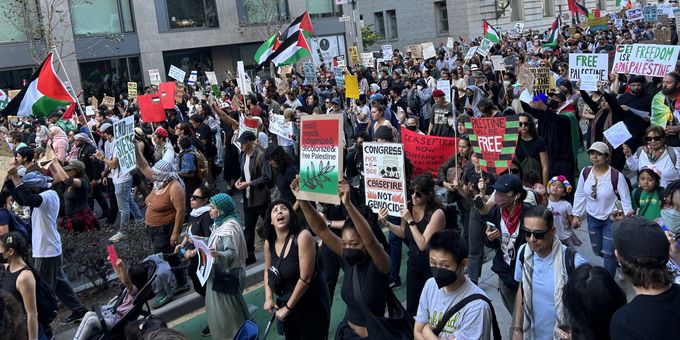 (Photo: Brett Wilkins)
The Associated Press reported that U.S. Secretary of State Antony Blinken on Saturday "met with Arab foreign ministers in Jordan a day after talks in Israel with… Netanyahu, who insisted there could be no temporary cease-fire until all hostages held by Hamas are released."
Officials in Israel say Palestinian militants are holding around 240 hostages and more than 1,500 Israelis have been killed over the past four weeks. According to the Gaza Health Ministry, Israel's war on the besieged enclave has killed over 9,400 Palestinians. Amid a surge in settler violence, 133 Palestinians have been killed in the West Bank.
Israel has faced global criticism for cutting off the people of Gaza from food, water, fuel, and medicine as well as bombing homes, schools, medical facilities, religious buildings, and a refugee camp. Some citizens of Israel have joined in worldwide demands for International Criminal Court action on "escalating Israeli war crimes and genocide."
Pro-Palestinian protests were also held around the world on Saturday, including in Berlin, Germany; Dhaka, Bangladesh; London, England; Paris, France; Milan, Italy; Santiago, Chile; and Tokyo, Japan. Scientist and organizer Lucky Tran said on social media that "we are witnessing the biggest global anti-war protests since the Iraq War in 2003."
In the United Kingdom, tens of thousands of people blocked London's Oxford Circus and Piccadilly Circus, then marched to Trafalgar Square. Al Jazeera reported that "protesters held 'Freedom for Palestine' placards and chanted 'cease-fire now' and 'in our thousands, in our millions, we are all Palestinians.'"
Original article by JESSICA CORBETT republished from Common Dreams under Creative Commons (CC BY-NC-ND 3.0).